IRS Audits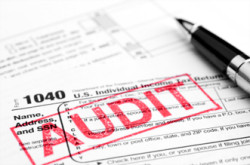 If you've received notice that you're being hit with an audit by the IRS, your first instinct might be to panic. However, with tax audit professionals by your side, you can make it through your audit proceedings and get the best possible results. If you live or own a business in the Kansas City area, you can count on The Levy Group of Tax Professionals for superior assistance with IRS audits. We're intimately familiar with all of the tax codes that affect our clients, and we provide attentive and thorough workmanship, as well as skilled negotiation with the tax authorities. Make your tax problems a distant memory by contacting our office via phone or e-mail today!
Our tax attorneys and enrolled agents are audit IRS specialists, thanks to our 22 years of experience and our comprehensive training. We're licensed and insured for your protection and peace of mind. When you call us for assistance with an individual or business audit, we'll take steps including:
Helping you gather any paperwork or documents necessary to support your case
Going through past returns to determine the reason for the audit
Representing you during the audit proceedings
Negotiating any tax settlements you need, such as an offer in compromise
Advising you on avoiding an audit from the IRS in the future
We understand that IRS audits are stressful and overwhelming, and we'll do our best to minimize the hassle and frustration you experience. By providing careful, knowledgeable, and compassionate tax audit assistance, we'll aim to help you meet the IRS's demands without incurring financial hardship for yourself or your business. If the audit by the IRS doesn't go your way, we'll help you secure a tax settlement that will make it easier to pay what you owe. You can trust The Levy Group of Tax Professionals to be by your side until your tax problems are resolved.
In addition to providing quality workmanship, our tax specialists prioritize quick turnarounds and reasonable rates. The IRS is serious about its deadlines, and we're serious about helping our clients meet those time frames. If your audit IRS date is approaching quickly, we'll work tirelessly to make sure your case is ready. When it comes to negotiating an offer in compromise or other settlement, we'll work just as quickly to help you avoid the penalties that can come along with delayed payment. We offer all of these excellent individual and business audit services at some of the lowest prices in and around Kansas City. Take advantage of our skill and our superior customer service by calling now for help with tax audits and more!
Audit Defense You Can Trust
In addition to being licensed and insured with two decades of experience, The Levy Group of Tax Professionals is proud to be affiliated with several tax industry organizations: the American Society of Tax Problem Solvers, the National Association of Tax Professionals, and the National Association of Tax Resolution Companies. We also hold an A+ rating from the Better Business Bureau. If you're looking for experts who will get you through your audit from the IRS in one piece, you've come to the right place. We'll work incredibly hard to ensure your satisfaction with our services and to get you IRS results that make a difference in your, or your business's, financial health. Learn more by contacting our audit defense team today.  
tax audit
irs audit
offer in compromise