IRS Back Taxes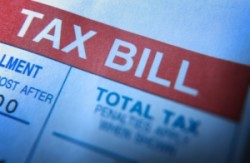 Do you owe IRS back taxes? Even if you've only missed a single payment, the problem can grow out of control if it's not taken care of swiftly and effectively. You can fall victim to state and federal back tax problems unless you take a proactive approach to resolving the issue. In the Kansas City area, you can count on The Levy Group of Tax Professionals for the expert guidance and assistance you'll need to deal with your back income and back property taxes. We provide comprehensive back tax resolution services, from filing back taxes to negotiating any tax settlements you need to pay what you owe. You can trust our savvy tax team, which includes tax attorneys and enrolled agents, to have the knowledge, skill, and commitment that you need to make your tax problems a thing of the past. Regain control of your finances and your sanity by calling The Levy Group of Tax Professionals today! 
When you owe back taxes, we can help you with various resolution services, including:
Gathering and organizing necessary paperwork
Filing late tax returns
Negotiating settlements such as offers in compromise
Petitioning for penalty abatement 
Creating installment agreements 
Lifting government actions against you
Advising you on preventing back tax problems in the future 
With the experts at The Levy Group of Tax Professionals on your side, the fact that you owe unpaid taxes no longer has to spell disaster for your finances, your household, or your business. Getting your state or IRS back taxes under control is vital if you want to keep your budget afloat and remain in the good graces of the tax authorities. Our experienced enrolled agents and tax attorneys have provided countless clients just like you with the tax assistance they need to return to solid financial ground. We'll work with you to create a customized plan of action to resolve your unpaid taxes, determining which tax resolution strategies are best suited for your circumstances. Whether you need us to help you lift wage garnishment or a tax levy or you need an offer in compromise to reduce your debt balance, we're ready to help. We understand that no two cases are the same, and we'll do everything in our power to deliver the most effective, beneficial back taxes help in Kansas City.
Experienced Tax Assistance
The Levy Group of Tax Professionals has been in the business of providing help with back taxes for 22 years. That experience makes us extremely qualified to help you with your delinquent taxes, no matter how serious your scenario. Beyond our extensive experience, we're pleased to be fully licensed and insured for back taxes help, and to be affiliated with the American Society of Tax Problem Solvers, the National Association of Tax Resolution Companies, and the National Association of Tax Professionals. We're also proud to hold an A+ rating from the Better Business Bureau. You can feel completely safe putting your back tax problems in our capable hands. 
From devising an installment agreement to filing a tax return late, The Levy Group of Tax Professionals is Kansas City's source for quality tax help. When you owe delinquent taxes on behalf of yourself or your business, you can rely on our extensive knowledge to get you out of dire straits and back into the good graces of the local, state, and federal tax authorities. Our understanding of the tax system is unrivaled by our peers in Kansas City and beyond, and we'll put our 22 years of experience to work to get your IRS back taxes settled as swiftly as possible. For the professional tax help you need, contact us via phone or e-mail now to get started with your free estimate!
Back Taxes
Filing Back Taxes
IRS Representation
Back Tax Return
Owe Back Taxes