Tax Penalties and Settlements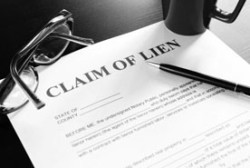 When you fail to meet the IRS's demands, you can be hit with steep tax penalties intended to force payment. From fines and interest added to your tax debt to wage garnishment and tax liens and levies against your property, these income tax penalties can cause you hardship and put your financial security in jeopardy. Luckily, there are various tax settlements available to help taxpayers become compliant with the tax authorities and move forward tax debt free. If you need a tax settlement to break out from under a tax penalty that's giving you serious problems, call in the pros at The Levy Group of Tax Professionals today. We're Kansas City's source for tax abatement you can trust, and we're ready to help!
If you're facing tax penalties such as fees, wage garnishment, and tax liens and levies, we can assess your situation and your eligibility to come up with the best available form of tax abatement to bring you relief. Depending on your specific circumstances, with our assistance you may be able to secure:
Offer in compromise
Installment agreement
Penalty abatement
Innocent spouse relief
Wage garnishment cessation
Lifting of liens and levies
Or another tax settlement
Many times, you can receive penalty abatement by negotiating an alternative taxes settlement to help you pay what you owe with less hassle. For instance, we could have wage garnishment lifted from your account and instead create an installment payment plan to help you settle your debt with the IRS. Our goal is to satisfy both the government's requirements and your own financial needs. We'll tailor your IRS settlement to your unique case, calling on our 22 years of experience and accumulated knowledge to select the best course of action.
Licensed and Insured Taxes Settlement Pros
The Levy Group of Tax Professionals is Kansas City's best bet for resolving your income tax penalties in an accurate, thorough, and effective manner. We're pleased to be fully licensed and insured for IRS settlement negotiation, and to be affiliated with the American Society of Tax Problem Solvers, the National Association of Tax Professionals, and the National Association of Tax Resolution Companies. As a testament to our excellent workmanship and customer service, we hold an A+ rating from the Better Business Bureau. We bring together fast turnarounds and reasonable rates, without ever sacrificing the quality of the tax debt reduction services we offer.
Learn more about getting a tax penalty lifted and what tax settlements are available to you by calling or e-mailing The Levy Group of Tax Professionals today. We'll be happy to answer all of your questions and to give you a free cost estimate for the tax debt settlement help you need. With our team of tax attorneys and enrolled agents on your side, tax debt reduction is within your reach! 
Tax Fees and Resolutions
Tax Penalties
IRS Settlement
Tax Penalty Help
Tax Settlement